NEWS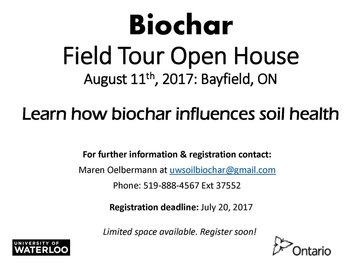 Previous Biochar Research in the SED Lab

Addition of biochar to temperate soils affects crop production and soil chemical, physical and biological characteristics and the dynamic interactions between plant and soil, and carbon and nitrogen transformations. We have worked together with biochar producers on using biochar preconditioned with urea ammonium nitrate to enhance soil fertility and reduce the quantity of biochar application to 1 t/ha from 10t/ha.
This work has now been published in: www.nrcresearchpress.com/doi/abs/10.4141/cjss-2014-010

Based on the results from this study, we also used the Century Soil Organic Matter Model to predict changes in soil organic carbon in soil amended with different rates of biochar preconditioned with urea ammonium nitrate compared to a variety of typical agricultural management practices in the temperate zone. This work appeared as a book chapter in a book entitled: Sustainable Agroecosystems in Climate Change Mitigation.
We are currently seeking further funding and collaborative opportunities with industrial and governmental partners to continue our biochar-related research.
---
New Project: Biochar & Soil Health


This project is sponsored by the Ontario Ministry of Agriculture, Food and Rural Affairs (OMAFRA) with Industrial support from Titan Carbon Smart Technologies (Mayan Gold Biochar) and agricultural producers of Huron County, Ontario. It is a collaborative research effort including university, OMAFRA and Agriculture and AgriFood Canada researchers.

This project evaluates soil health, climate change resilience and greenhouse gas emissions in biochar amended soils located in Huron Country, Ontario. The first field season began in 2016 and we are now in our second field season. Field work will terminate in 2019 providing 3 years of field data on greenhouse gas emissions and soil health. We will also be conducting a climate change resilience study as part of this project. We also conducted interviews in 2016 with agricultural producers in Huron County and just completed an economic analysis.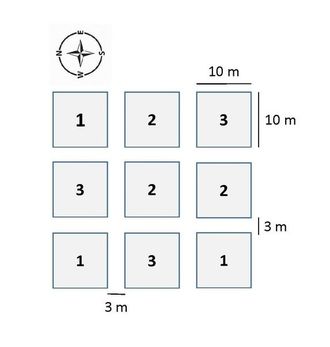 FIELD DESIGN & TREATMENTS:
Randomized complete block design with three treatments and three replications established in Huron County, Ontario

Treatment 1 (M+N): 6t/ha poultry manure plus 150 kg/ha N fertilizer
Treatment 2 (M+B): 3t/ha poultry manure plus 3 t/ha biochar
Treatment 3 (M+N+B): 3t/ha poultry manure, 3 t /ha biochar, 150 kg/ha N fertilizer

---
Check this section of the website regularly if you are interested in the OMAFRA funded biochar project. We will be posting some of the most recent results of this project starting in June 2017.

Follow project updates on Twitter (@OelbermannMaren), LinkedIn and Research Gate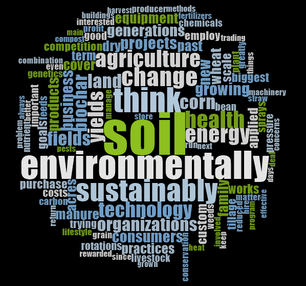 RESULTS: SOCIAL & ECONOMIC STUDY
Semi-structured interviews with 22 farmers in Huron County too place in 2016. The interview highlighted many issues and concerns farmers have, as well as important demographic information. Organizing the interview transcripts by the most commonly used words provided insight into the most important themes to farmers in Huron County, which we formulated into a word cloud. This also helped us understand farmer decision-making processes. Cost is the leading factor when considering the addition of biochar to agricultural soils, followed by a lack of research, unknown benefits, and the need for a distinct economic benefit.



---
RESULTS: GREENHOUSE GAS EMISSIONS (Year 1)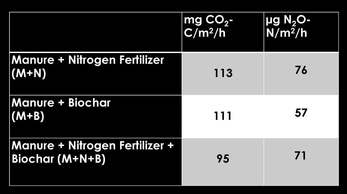 Graphs (above): showing CO2 and N2O emissions over the growing season from soil under a corn crop in biochar and non-biochar amended soil.

Table: Mean CO2 and N2O emissions, over a 7 month period, in biochar and non biochar amended soil.
---
RESULTS: CROP METRICS & SOIL HEALTH (Year 1)

Crop Metrics
Macrofauna

Soil Moisture & Temperature

Soil Ammonium & Nitrate over Cropping Season

More soil health results coming soon...

Website last edited June 22, 2017